The holidays are a time for gathering with family and friends, including our pets. Keep things merry + bright and check out our tips below to enjoy a healthy and happy holiday.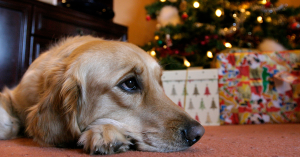 Secure the Tree
If you have pets dashing through the snow and then your home, you'll want to make sure your tree is stays sturdy and upright. Invest in a solid tree stand and consider anchoring your tree to the wall or ceiling to prevent it from falling over and injuring your pet.
Watch the Water
If you've got a live tree, chances are you're watering it regularly; and while it may look like your pet's water dish – it's not. Fertilizer used to protect the trees can seep into the water causing an upset stomach. Plus, stagnant water is a breeding ground for bacteria that can lead to nausea and diarrhea. Moral of the story? Make sure your pets has access to fresh water and they aren't confusing the tree stand for their bowl.
Avoid a Décor Disaster
Those beautiful ornaments and tinsel covering your tree look an awful lot like your pet's toys. If swallowed, these items can cause blockages that require expensive surgery. Take the extra steps to avoid issues: use shatterproof ornaments, place them out of reach from pets and skip the tinsel. While you're at it, add holly and mistletoe to that list – they're known to upset the stomachs of animals.
Let There Be Light
Aside from the potential danger of your animals knocking over a candle and starting a fire, holiday lights in all their pretty shapes, colors and forms can be a problem. If your pet has a habit of chewing electric cords, they could shock and seriously injure themselves. Keep cords out of reach and use cord wraps or a chewing deterrent. Battery powered lights aren't exactly a safe alternative either – if your pet gets ahold of batteries, they can cause serious burns to their throat and mouth. And as for that candle situation we mentioned, consider swapping them out for flameless candles.
Eat This, Not That…
If you haven't caught on yet, our furry friends tend to have sensitive stomachs. Below are some holiday snacks to skip:
garlic & onions
raisins & grapes
cooked bones
chocolate
Of course, we understand that the holidays are a time for gathering, spending time with those you love and eating yummy food. Get your pets in on the festive fun and try these treats:
white meat turkey
bananas & apples
carrots
pumpkin puree